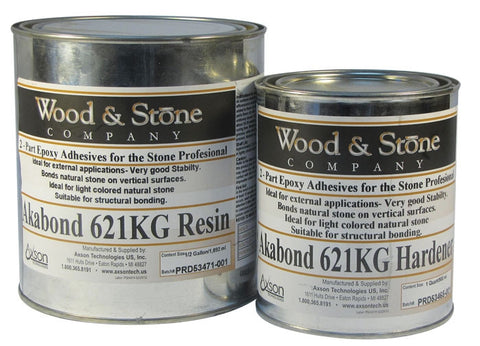 Akabond Wood & Stone 621 Clear Knife Grade Part A and B
2 : 1 Ratio 
1/2 Gallon Part A
1 Quart Part B
General Description
Wood & Stone Akabond 621 Clear Knife Grade Epoxies are two-part adhesives and fillers ideal for use with light colored natural stones on both interior and exterior applications. They have excellent mechanical properties and very good color stability for exterior applications.

Characteristics
Wood & Stone Akabond 621 Clear Knife Grade epoxIES are solvent free, two-component adhesives, with excellent freeze thaw durability. The are ideal for use with light colored stone and are excellent for structural repairs. They will bond stone to wood, metal, and other materials. Wood & Stone Akabond 621 Clear Knife Grade is a high viscosity clear gel epoxy that is resistant to sagging.

Applications
Wood & Stone Akabond 621 Clear Knife Grade epoxy products are ideal for light colored stones, especially granite and outdoor applications where stone will be bonded to other materials including concrete, glass, metal and wood. They are suitable for consolidating, crack repair, laminating slabs, filling or patching broken or chipped stones. Wood & Stone Akabond 621 Clear Knife Grade epoxy products are for light colored stone repair and bonding horizontal pieces. Fills cracks and holes. By adding stone dust a resin mortar can be made that is suitable for filling large areas.

Please note: Wood & Stone Akabond 621 Clear Knife Grade products have very good color stability with a minimal tendency to yellow under direct UV exposure. They are ideal for exterior applications and especially light stone.

Directions for use:

Preparation - All surfaces must be dry and free of grease, oil, efflorescence and dust. Wood & Stone Akabong 621 Clear Knife Grade products will bond to moist surfaces. However, a dry surface will provide the best results.

Application - If needed, Wood & Stone Epoxy Coloring Paste should be added to Resin "A" before mixing with Hardener "B" . See chart for the correct mix ratio of resin "A" to hardener "b". Too much or too little hardener can significantly impact the bonding strength properties. Ambient temperature also affects curing time. Warmer temperatures speed the curing process, while lower temperatures will slow the curing process. Minimum application temperature is 40° F.

These products should be mixed thoroughly until color is uniformly blended. at 68°F the mixtures are workable for about 20-55 minutes (see physical properties table). The product should not be worked once gelling has begun. Once the product becomes rubbery, excess material may be removed with a razor blade or chisel.

When bonding stones, clamps and jigs should be used to ensure that a thin bond layer (less than .4mm) is achieved, thereby providing the strongest bond. After curing, the stone piece may be further processed without damaging the material.

Coloring
Wood & Stone Akabond 621 Clear Knife Grade epoxy products are easily colored to match any stone using our Wood & Stone Epoxy Coloring Pastes. The best shade can be obtained by mixing the product to a shade slightly darker that the actual stone color.

Clean-Up
Unhardened products can be diluted with hydrocarbon compounds such as Xylene, Toluol and Ceton, Esters, and Alcohol. Tools should be cleaned immediately after use. After hardening, the products can only be cleaned with methylene chloride or burning.
Storage

Always keep the container tightly sealed when not in use, and never expose the hardener to temperatures in excess of 100°. Wood & Stone products are chemically inhibited to extend shelf life and improve consistency. Storage temperature, however, is an extremely important factor in maximizing the shelf life of these products. The materials should be stored in a cool environment (50°F) whenever possible and should never be exposed to direct sunlight. If these storage procedures are followed, this product should have a usable shelf life of at least one (1) year.
Precautions and Safety

Observe all safety measures as described on the container and on the product MSDS. Avoid contact with skin, eyes and respiratory system. Use protective gloves and always work in a well ventilated area.
---
---
We Also Recommend