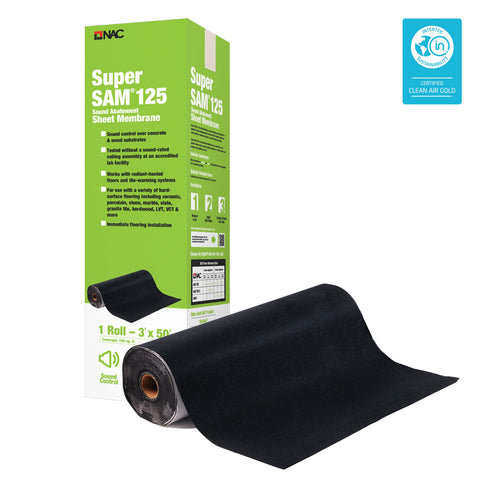 Super SAM® 125 (Sound Abatement Membrane)
Super SAM 125 is a thin, (approx.1/8" thick), self-adhering, self-healing, sound-deadening sheet membrane designed for use under floor surfaces that require impact and audible sound reduction. The peel-and-stick membrane is applied with an NAC primer and may be installed over substrates without a sound rated ceiling assembly (SRCA).
Super SAM 125 is ideal for applications requiring sound reduction such as condominiums, classrooms, multi-family housing, hotels, high-rise office buildings, media rooms and more.
IIC 51 STC 54 ΔIIC 22 on 6" concrete with tile

IIC 56 STC 61 on wood joist system with tile

IIC 51 STC 52 ΔIIC 23 on 6" concrete with hardwood

Same day flooring installation

Crack protection for up to 3/8"

Provides MVT protection up to 10#/1000 SF/24HRS when used with NAC TAC or NS97 and 7#/1000SF/24HRS when used with NAC TAC II

Light Commercial/Residential load rating

Clean Air GOLD certified
Coverage - 3' x 50' - 150 sf/roll
---
---
We Also Recommend