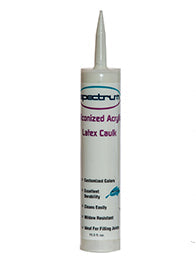 Customs Grout Colored Caulking by SPECTRUM LATEX CAULK (Sanded Finish)
SILICONIZED ACRYLIC 
 Sanded texture
For Smooth Finish click here: 
Please use the scroll drop down menu to select your color
Spectrum Latex Caulk is an exceptional, one part siliconized acrylic latex caulk designed for the professional and homeowner alike. This easy to use product forms a long lasting, flexible, water tight seal that will resist mold, mildew and cracking on most building materials. True to its name, Spectrum caulk is available in a myriad of colors to match every major grout manufacturers color available on the market today and in the future.
Spectrum caulk comes in two textures: The sanded texture is designed to compliment the sanded Portland cement grouts and the smooth texture is designed to compliment the non-sanded Portland cement grouts. Not only do we match colors and textures, but our caulk formula was designed around the Ceramic & Stone tile industry. Our textures are generally unnoticeable when transitioning between the two and our caulk won't attract dirt and noticeably discolor the caulk line like other caulks (A problem in the industry with competitive caulks).
Matches every major grout manufacturers color.
Silconized for durability and flexibility.
Available in two textures.
Contains a Biocide and is mildew resistant.
Packaged in a cartridge for ease of use and application in a caulking gun.
For caulking around sinks, tubs, showers counter tops, baseboards windows / glass block and door frames.
For use where tile meets tile or dissimilar surfaces such as where countertops met backsplashes or floors meet the walls.
Exceptional adhesive for ceramic tile, glass, stone, wood and marble vanity tops to their bases.
Excellent for restoring cracked or worn grout joints.
*** Please Note *** We will substitute with the COLORFAST Industries Inc product if the Spectrum color option is not available. 
---
---
We Also Recommend