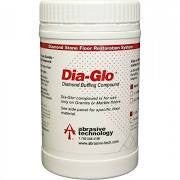 Dia-glo White Granite
The Dia-Glo L™ brand compound is designed for light colored granite. The Dia-Glo S™ brand compound system is a three-part system to be used for restoring black granite to its original high gloss and deep color.
Dia-Glo™ brand buffing compounds are formulated to achieve the best possible finish on stone surfaces. Easy to use, they quickly produce a mirror-like finish. These compounds can be used in stone fabricating shops, for floor restoration and for maintenance buffing.
---
---
We Also Recommend