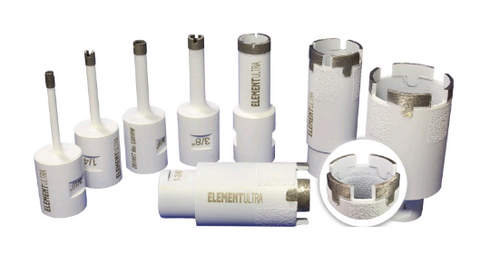 PORCELAIN DRILL BITS DRY OR WET
How can I drill into Porcelain? 
We are proud to introduce to you our Element Drill bits for drilling through porcelain and other ultra compact surfaces. Finally you can have access to the tools that the professionals rely on everyday. Available in sizes from 3/16" up to 3" and almost everything in between. Long Lasting professional bits for precise cuts.
Use the scroll bar above to select the size you want.
We will even ship them out to you for free! Free shipping to continental U.S. on The Element Drill bits.
These professional bits will fit on most major brand grinders with a 5/8-11 thread. Want to use a Drill? Attachments for a drill can be purchased by clicking Here.
Designed to be use wet or dry. Please keep RPMs below Recomemended RPMs.
Will work on Porcelain, Dekton, Neolith, and other Ultra Compact Surfaces. Also, Works well on Quartz, Engineered Stone, Natural Quartzites and Granite as well.
Work like the Pros do! 
Please follow safety precautions 
Built with the latest dry OR wet technology;

Engineered with the most advanced heat-resistant metal bond;

T-shape segments effectively prevent segments from coming off;

Brazed diamond protection inside & outside of the barrel

Fast drilling on porcelain & Ultra Compact surfaces even without water;

Material: Porcelain, Ultra Compact Surfaces, Quartzite, Granite, Concrete

Dry or Wet use.
----------------Diameter---------------------Drilling Depth--------Threading ----MAX RPM
| | | | | |
| --- | --- | --- | --- | --- |
| | 3/8"  | 1-3/8" | ⅝"-11 | 5,000 |
| | 1/2"  | 1-3/8" | ⅝"-11 | 5,000 |
| | 3/4"  | 1-3/8" | ⅝"-11 | 5,000 |
| | 1"  | 1-3/8" | ⅝"-11 | 5,000 |
| | 1-1/4" | 1-3/4" | ⅝"-11 | 5,000 |
| | 1-3/8"  | 1-3/4" | ⅝"-11 | 5,000 |
| | 1-1/2"  | 1-3/4" | ⅝"-11 | 5,000 |
| | 1-3/4"  | 1-3/4" | ⅝"-11 | 4,000 |
| | 2"  | 1-3/4" | ⅝"-11 | 4,000 |
| | 2-1/2"  | 1-3/4" | ⅝"-11 | 4,000 |
| | 3" | 1-3/4" | ⅝"-11 | 4,000 |
---