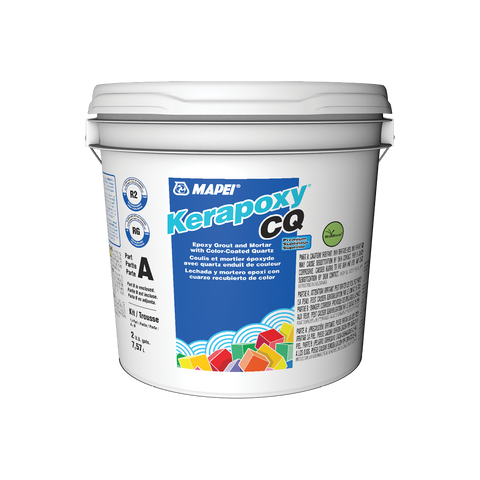 MAPEI KERAPOXY CQ 1 Gallon
PLEASE USE THE DROP DOWN MENU ABOVE TO SELECT YOUR COLOR
Premium Epoxy Grout and Mortar with Color-Coated Quartz

Kerapoxy CQ is an improved, two-component, 100%-solids epoxy grout and mortar that is nonsagging/nonslumping in joints up to 3/8" (10 mm) in width, water-cleanable and easy to apply. Kerapoxy CQ uses a proprietary aggregate to achieve its durable color, making it excellent for countertops, high-traffic areas, and areas needing stain and chemical resistance. Easy to maintain, Kerapoxy CQ will clean to the original color and contains BioBlock® technology to help protect against mold and mildew.

ADVANTAGES
Two-component, 100%-solids epoxy grout and mortar
Resists sagging and slumping in both floor and wall applications
Resistant to stain/chemicals
Easy to apply, water-cleanable and easy to maintain
Grout

Kerapoxy CQ is designed for use as a grout for interior residential and commercial floor and wall applications, and is ideal for areas that require stain-resistant epoxy grout, such as countertops. This epoxy grout can also be used in high-traffic areas in industrial, commercial and institutional settings that require high-strength, chemical-resistant grouting. 
Mortar
Kerapoxy CQ can be used as a mortar for both interior and exterior residential or commercial floor, wall and countertop applications. Suitable for use in submerged and high water use areas, such as showers, pools and fountains, Kerapoxy CQ can be used to set many types of tiles and stones. 
Material Suitability
Kerapoxy CQ is designed for grouting and setting most ceramic, porcelain and quarry tiles, acid-resistant floor bricks, pavers and natural-stone tiles. Materials such as marble, granite and slate are naturally occurring and contain a combination of many chemicals and minerals. As such, it is impossible to predict how every piece of material will react, so we recommend using a mockup installation before the actual installation to determine the suitability of materials and ensure desired results. 
---
---
We Also Recommend