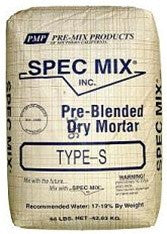 Pre Mix Spec Mix
Available in 60 lbs & 94 lbs
Designed specifically for use by masonry contractors, the Spec Mix 94 lb. Type S Masonry Mortar provides consistent batches of type S mortar for applying brick, stone and block. The mortar offers 1,800 psi strength and a 2-hour working time.
For use in the application of block, brick and stone
Dry, factory-blended mix
2 hour working time
Gray color
Yields consistent batches
1,800 psi
Meets ASTM C-270 and UBC 21-15 standards
Saves time and money on labor
Pre-Mix Spec Mix Masonry Mortar is specifically designed for use by masonry contractors. This product is produced under strict quality control guidelines in accordance with A.S.T.M. and U.B.C. standards. Masonry Mortar provides a superior product to jobsite mixing due to control of mix ratio and quality of sand.
Application:


Add Masonry Mortar to clean, potable water and mix to desired consistency. Recommended water is approximately 17-20% by weight. One 94 lb. bag should lay approximately (25) block or (40) to (50) brick.
Advantages:

Quality control – a consistent batch every time

Convenience of handling and transporting one product

Excellent for multi-story and difficult access jobs

Systems that save time and money on labor

Consistent color quality
---
---
We Also Recommend