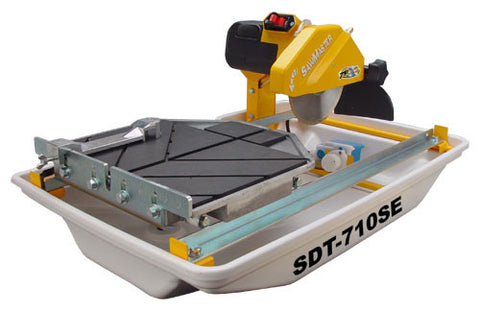 Saw Master 7" Tile Saw with Stand
The SDT-710SE is an entry-level wet tile saw with an emphasis on portability that is evident in its compact and lightweight design. Weighing just 35 lbs, it is equipped with a high performance 1 HP carbon brush motor and is capable of cutting tiles up to 17" in length, making it an ideal saw for DIYs and contractors working on small tile projects. The SDT-710SE builds upon the
SDT-710E
by offering an upgraded cutting table and a prebundled folding stand.
ABS Water Tray
The provided ABS water tray is durable, yet lightweight, which helps minimize the saw's overall weight.

Water Pump

A high-output water pump provides sufficient cooling water flow for maximum protection of the diamond blade.


Adjustable Cutting Height

Cutting depth can be easily adjusted to accommodate 6" to 7" blades and to provide plunge cutting functionality.


Rubber Matted Cutting Table
The new cast aluminum cutting tables are covered by a rubber mat that is injected directly onto the table and chemically bond for ehanced durability.


Safety Power Switch

The power switch features a safety tab which can be removed to render the switch inoperable, thus preventing the accidental activation of the motor.


Table Retention Device

The cutting table is equipped with a spring lock to secure the cutting table when transporting the saw in between job sites.


Reusable Air Filter

The motor utilizes a special fire-resistant filter to remove debris from the air intake. The filter is designed for easy cleaning and can be reused indefinitely.


Prebundled Folding Stand

The prebundled folding stand is easy to set up and allows easy deployment of the saw at any job site.
---
---
We Also Recommend