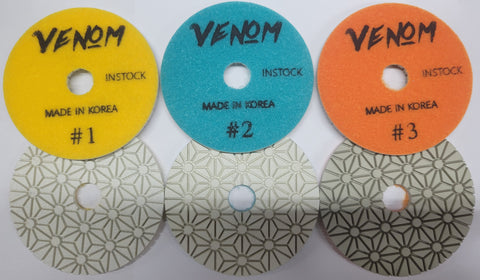 VENOM 3 STEP POLISHING PADS FOR STONE
VENOM

 3-STEP POLISHING PADS
Our polishing Pads use three steps instead of the common seven step full polish kit, which means this product is a huge time and money saver. These pads work great on granite and engineered stone, alike. Ideal for light and colored materials, our resins are specifically designed to be not marking. Must be used with water, and on a 4"-5" variable speed angle grinder or polisher.
Sharp, wear-resistant and high efficiency. This set of diamond polishing pads are made of the highest quality diamond and resin powder which increase its durability for a long life and a high performance grinding, honing and/or polishing.

It polishes concrete and terrazzo surfaces with outstanding finish and gloss. These are pads for professionals and DIY-ers.
VENOM

 3-STEP POLISHING PADS FEATURES
: 
Better quality finish than traditional 7 step pads

40%-60% faster shop production

1 diamond polishing pad to polish marble, granite, quartz stone
For a Dry 3 Step System, PLEASE click the link below
https://stoneshopsupply.com/products/ice-3-step-pads
If not used on a variable speed tool, a single-speed power tool will run too fast and the polish pads can detach from the backer pad and may cause injury to the user. 
---
---
We Also Recommend