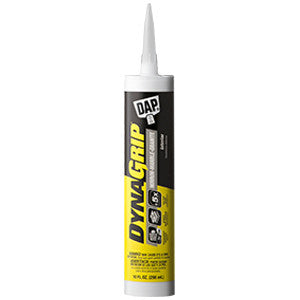 DYNAGRIP Mirror, Marble and Granite
DYNAGRIP® MIRROR, MARBLE, GRANITE is a premium grade hybrid adhesive specifically formulated for mirror and countertop installation. This premium hybrid adhesive provides a permanent vertical hold in one-hour—ideal for mirror installation. This VOC compliant adhesive is easy to gun and will not stain or damage mirrors, countertops or finished surfaces.
DYNAGRIP MIRROR, MARBLE, GRANITE is a high-strength adhesive that delivers exceptional adhesion on porous/non-porous construction materials.
UP TO 5X FASTER BOND STRENGTH* 
EXCEPTIONAL ADHESION TO NON-POROUS MATERIALS—ideal for countertops or mirrors
ONE HOUR PERMANENT VERTICAL HOLD—significantly reduces cumbersome clamping and bracing of fragile mirrors
EASY-TO-GUN—prevents dripping adhesive and damage to finished surfaces
  DYNAGRIP®—THE GRIP THAT OUTPERFORMS™
*Develops strength up to 5X faster bond strength than competitive mirror, marble, granite construction adhesives within 24 hours of application
---
---
We Also Recommend