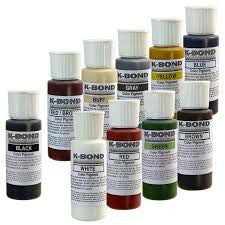 K-BOND COLOR FOR POLYESTER AND ACRYLIC RESIN
K-BOND COLOR FOR POLYESTER AND ACRYLIC RESIN
Available Sizes:
2 oz and 8 oz Individual Bottles with dispensing cap
or 
a 10 pc Color Kit of 2 oz bottles
K-Bond Color for Polyester and Acrylic Resin this pigments can be used to tint both polyester and epoxy adhesives. Made with the highest grade raw materials, these color pigments give consistent color matching ability and an extremely long shelf life. Blend to match from colors of white, red/brown, black, gray, buff, brown, red, yellow, blue, and green. Mix with epoxy to match the color of your stone when filling cracks or bonding two stone surfaces.
Among the main features of this product we find:
Made with the highest grade raw materials
Great color matching ability
Designed to be used when filling cracks or bonding surfaces
Long shelf life
---
---
We Also Recommend