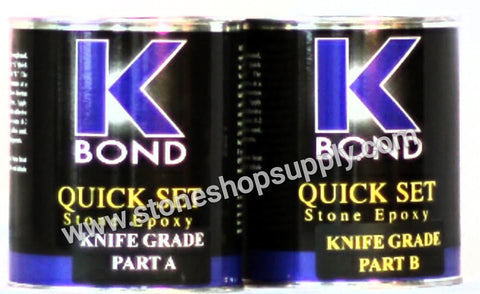 K Bond Quick Set Stone Epoxy Knife Grade
Light colored easy to blend epoxy.
K-Bond QUICK SET Knife Grade is a premium quality epoxy adhesive that has been engineered to have the best possible ratio of working time to curing speed. Uses include bonding, laminating, installation of pieces and repairs.
1:1 ratio, two-part knife grade epoxy system

Fast setting

Holds up through intense machining

Great for laminations on vertical applications

Great for quick and easy applications

Can be polished to high gloss

Working time 10-15 minutes

Cure time under 2 hours

 

Make sure stone surfaces are clean of any substance and dry.

Measure out the appropriate amount of 1 part epoxy resin (PART A) and 1 part hardener (PART B).

Next carefully mix the components together. Be careful to scrape the sides and bottom of mixing cup to ensure thorough mixing.

Overworking of product can cause the product to become thinner.

Do not use once gelling has begun.

 

| | |
| --- | --- |
| Consistency: | Paste |
| Attributes: | Clear formulation. Holds up through intense machining. Great for laminations on vertical applications. Great for quick and easy applications. Gel won't sag on vertical surfaces |
| Working Time: | 8 to 15 minutes |
| Tack Free: | Up to 3 hours |
| Usage Location: | Interior or Exterior |
| Recommended Application: | Natural and engineered stone. |
| Recommended Use: | Seams, edge repair, laminating stone, filling chips and reinforcement with metal and fiberglass rods. |
---
---
We Also Recommend