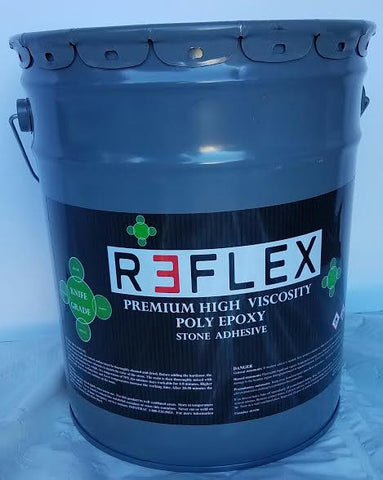 Reflex Ultra Clear Epoxy
We are proud to have formulated REFLEX. An revolutionary Translucent Epoxy using the highest quality resins and technology to give our professionals the best.
Dries Faster & Stronger & Clearer
Trusted and Used in some of the most expensive projects 

Translucent Epoxy is very Easy to color match. Takes much less colorant

Combines revolutionary polyester and epoxy resin technology for a strong bond that will handle heavy machine polish and grinding

Versatile. One adhesive for your job, REFLEX gets it done

Great for seaming and laminating all stone types including dense materials

 
REFLEX is a premium quality, acrylic blended adhesive that has been designed with the stone fabricator and installer in mind. It has been engineered to have the best possible ratio of working time to curing speed possible with increased bonding strength compared to standard polyester adhesives.Uses include bonding, laminating, installation of pieces, rodding,suppoting  and repairs.
| | |
| --- | --- |
| Consistency: | Paste |
| Attributes: | Clear formulation with better UV stability. Gel won't sag on vertical surfaces. |
| Working Time: | 4 to 6 minutes |
| Tack Free: | 10 to 20 minutes |
| Machinable: | 20 to 30 minutes |
| Usage Location: | Interior |
| Recommended Application: | Natural and engineered stone. |
| Recommended Use: | Seams, edge repair, laminating stone, filling chips and reinforcement with metal and fiberglass rods. |
---
---
We Also Recommend